Spring, is a practical journal from the team behind Ethos magazine.
Featuring inspiring, information-packed interviews from some of the world's most successful business leaders, freelancers and entrepreneurs – Spring isn't designed to tell you what to do; it's been created to inspire and encourage. We're sharing the stories of those who have been there; done that.
Not a guidebook; not a rulebook – this journal is designed for you, and your personal discovery and development – whether that's in life or work.
Spring showcases creators, authors, designers, journalists, app builders, wellbeing experts, and more, and asks: How did they get to where they are today? What would they do differently, if they could? How did they tackle the challenges that they faced along the way? Each of them revealing things they've done and discovered for themselves; born out of lived experience.
Spring's introduction comes from Mark Shayler, author of Do Disrupt, and founder of environmental and innovation agency, Ape. Mark has worked with hundreds of businesses big and small, to develop new business models, and new ways of thinking.
We've interviewed: Cyrill Gutsch, founder of Parley for the Oceans, the environmental organisation tackling our ocean plastic problem; Alexandra Heminsley, journalist, broadcaster and award-winning author of Running Like a Girl; Marc Champagne, cofounder of reflection app Kyō; Ngozi Wellerwellness expert at Aurora Wellness; Matt 'Mills' Miller, cofounder of ustwo; Rosa Park, editor in chief of Cereal magazine; and many more…
Alongside our interviews, we have designed tools, tips, and tricks to point you in the right direction, and a 28-day journal to help you along the way.
Our journal focuses on nine key themes: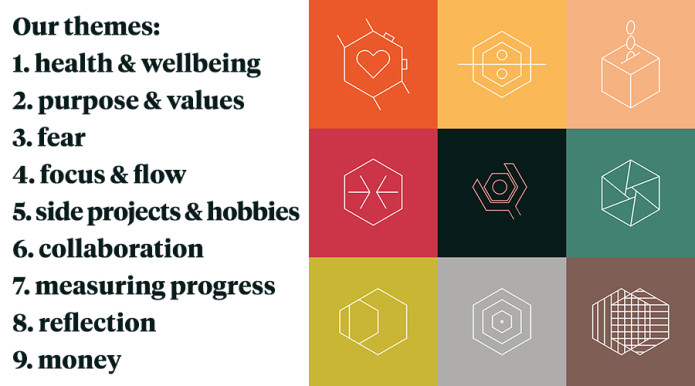 Each of our nine themes will guide you through Spring and are broken down into an introduction; an interview to bring the theme to life; and a set of tools and tasks to help you get going.
In today's fast-paced, technology-driven world, our lives are often clouded by outside perspectives and views, and we've lost touch with our own voice along the way. Keeping a journal is the best way to stay true to your own voice. We know that journaling is effective – because we do it ourselves.
Why have we chosen a 28-day journal? Because it takes 28 days to form a habit. And what better habit to form, than getting to know yourself, again?
We need your help, to bring Spring to life.
Support our Indiegogo campaign and help spread the word about Spring