Ladakh, or 'Land of High Passes', is a high-altitude desert divided between India and Pakistan. It's a thinly populated region of glacial peaks and arid mountains streaked rust-red, green and purple. Although it opened to tourists in 1974, that year saw only 578 visitors. However, tourism is rising exponentially – over 300,000 people visited in 2018 – and trekking is an increasingly popular activity in the region. Considering that Ladakh is a patriarchal society, all the trekking guides used to be men. But one woman decided to change all that by setting up the Ladakhi Women's Travel Company (LWTC), a trekking organisation staffed exclusively by women.
Thinlas Chorol was born in the small village of Takmachik, in Ladakh, and from an early age she would accompany her father into the high pastures to tend his livestock; soon developing a deep knowledge of and appreciation for the environment. She later attended a foundation year at the Students' Educational and Cultural Movement of Ladakh, where she had a chance to study English, increase her knowledge of sustainability, and learn new trekking routes. By 2003 she had the expertise to begin searching for work as a trekking guide – but most of the men she encountered disagreed. The local tourism companies refused to employ her; they told her that it was improper for a woman to take a group of foreigners into the mountains, and that she wouldn't be strong enough to complete the treks.
Chorol was undeterred. She began working as an independent guide, whilst continuing to educate herself. In 2007, she completed a mountaineering course at the Nehru Institute of Mountaineering, and in 2008 spent a semester at the National Outdoor Leadership School, with students from India and abroad. 
"The experience made me a lot more confident," she says – confident enough to set up the LWTC, in 2009. It was a company she decided would be run by women, for women. The idea was born after she met several women in Ladakh interested in guiding, and after encountering female tourists who felt harassed by their male guides.
The LWTC is based in Leh, the capital of Ladakh. It caters to a female clientele, although men accompanying women are welcome. It offers treks of varying length and difficulty in the Sham Region and the Hemis National Park. Between January and March, the company arranges day-long treks in search of elusive snow leopards. It also organises sightseeing tours to local Buddhist monasteries and attractions such as Pangong Lake, the largest in the Himalayas.  
Since its inception, the reputation of the company has grown rapidly. "Tourists were very happy with the female guides, as they hadn't seen this before," Chorol explains. In the first couple of years, the LWTC employed two to three guides and had ten to 15 client groups. By 2018, it had expanded to 27 employees, serving 190 groups. An impressive number, considering Ladakh is very much a seasonal trekking destination – many roads and passes are closed for five to six months of the year due to heavy snow. But as well as being a successful businesswoman, Chorol uses her organisation to help women in the region, and become an example of sustainable tourism for others to follow.
Working with the LWTC is predominantly a seasonal opportunity, since most visitors arrive between May and September. Initially Chorol was worried that this would adversely affect her employees, so she set up the Ladakhi Women's Café in Leh, to provide them with work in the off-season; and this seasonal employment suits many Ladakhi women. For example, Deachan Angmo works as a guide for the company during the summer and spends the rest of the year studying for a university qualification in rural development. Other women like to return to their villages during the winter months to spend time with their families.
A lot of Ladakhi women are interested in becoming guides. Chorol says she receives over 100 applications every season, and can only ever take on a handful of new staff. Many of the applicants need to improve their English in order to be considered as guides. So, the LWTC also employs female porters. 
"It's a training opportunity for women with little education – 10th to 12th standard drop-outs. Working with tourists helps these women improve their English, and they can also train to be a guide. We teach them first aid and about flora and fauna too," says Rizgen, LWTC's office manager. The company ensures clients keep to strict weight guidelines with their luggage so the porters aren't overburdened; and they have started a programme for volunteers to teach their employees English during the winter months.
Many companies make temporary camps along the trekking routes they run, but Chorol is passionately against this. "I've seen four or five horses for one person, really poorly packed. They carry so much with them – like one bucket of salt, and juice, and pizza for dinner. Then they leave their tins under the rocks and rubbish everywhere. I tell them: 'you might go away, but we have to stay here forever.''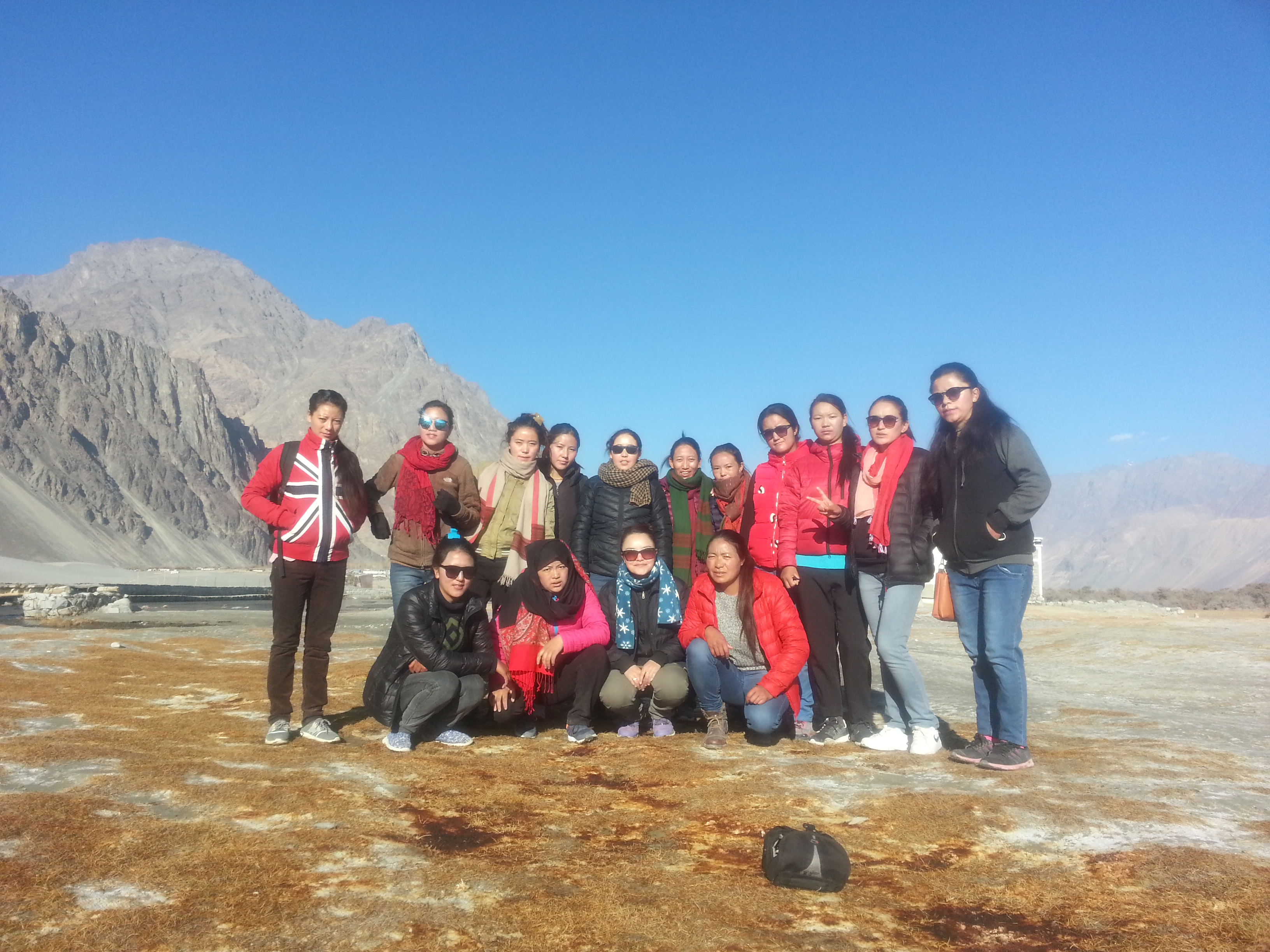 She realised it was more environmentally-friendly to rely on the accommodation that could be found on the trekking routes, and to eat locally-grown and prepared food. She visited homes along the trekking routes, trying to persuade local villages to provide bed and board for travellers. And, although many were initially reluctant, a couple of people agreed; after seeing the financial benefits, others were keen to follow. Chorol works hard to ensure that the rooms provided for trekkers are clean and comfortable, and that adequate meals are provided. The local women are in charge of the homestay accommodation, and receive the money for it; they ensure rooms are allocated on a rotation basis, so all the women in the villages can benefit. 
Since the LWTC first started, it has provided financial and educational support for hundreds of local women. As the company goes from strength to strength, Chorol continues to campaign tirelessly for female empowerment. She founded the Ladakhi Women's Welfare Network in 2014, which supports women dealing with traumatic issues and spreads awareness of women's rights. She's received numerous accolades for her work. In March 2018, she was awarded the Nari Shakti Puraskar award conferred on individual women in India.
The LWTC is an inspirational example of how businesses can care for the environment and help the local community. And it all came about because one woman refused to be put in her place, and instead chose to pursue her goals.