Today, approximately one fifth of the global population relies on fish as its primary source of protein. But with our ever growing population and the global issues of overfishing and bycatch – the amount of unwanted fish trapped in commercial nets – still unresolved, the fishing industry is facing pressure to catch the right species of fish that retailers want to sell and the public want to buy. Currently one in five fish caught are discarded, which works out at 27 million tons annually and around a £500,000 loss per vessel per year, negatively effecting the global economy.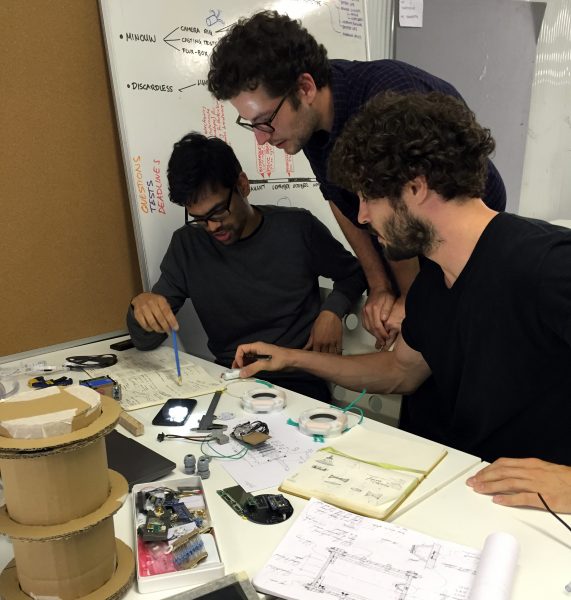 SafetyNet Technologies, a group of engineers, communicators and scientists, set out to design and build a device to increase the selectivity of commercial fishing practices to make the fishing industry more sustainable and develop a solution to overfishing and bycatch. After eight years of hard work, building prototypes, forming relationships and developing knowledge, SafetyNet is finally on its way to building a successful solution. A solution by the name of, 'Pisces'. Daniel Watson, CEO of SafetyNet explains the name behind the device, "Pisces seemed like a nice fit as it's a fish-shaped star constellation. When the devices are fitted into the fishing gear, shining out into the darkness, it looks like a constellation as the fish swim through it. We are guiding fish by starlight."
Watson first became aware of overfishing and bycatch when he read an article about two Scottish fishermen arrested in Norwegian waters for discarding excess fish. "It seemed strange to me that catching the wrong things was still a problem in this day and age," he says. "So, as a student, I decided to focus my final year project on the issue. After that, technology inspiration came from reading scientific papers and discussing the issues with members of various fisheries, research institutions and fishermen." Despite facing difficulties by coming into the sector from a non-fishing background, Watson has been fortunate to meet people with experience and knowledge of the fishing industry, who have included SafetyNet in various projects that have allowed them to progress.
Pisces is a light emitting device that fits onto the majority of nets already used by fisherman. It will put a stop to fisherman catching the wrong species of fish by emitting lights which attract the right fish and repel the wrong ones, allowing fishermen to catch cod one day and haddock the next. SafetyNet has trailed a set of earlier prototypes in the North Sea Nephrops fishery with Young's Seafood and Cefas, an impartial organisation, which resulted in a 60% bycatch reduction. A report written by Cefas said that light was: "a promising technology that warrants further experimentation." Further experiments in fisheries around the world resulted in fishermen using light to reduce bycatch up to 90%. Now, SafetyNet has built a range of devices in all shapes and sizes for scientists across Europe, many of who have been used to test hypotheses. "Pisces represents an aggregation of all the knowledge we've gained, enabling us to make a device that will allow a whole variety of light-based experiments to be conducted much more easily and reliably by scientists and fishing crews the world over," said Watson.
One of the biggest concerns for SafetyNet is ensuring that Pisces devices don't have a negative effect on the environment in which they are used. Making sure it selects the right materials for responsible use in the ocean, SafetyNet is currently working towards the Global Ghost Gear Initiative of World Animal Protection, and plans to offer Pisces on a subscription model basis in the future. This not only enables SafetyNet to repair devices if they break – rather than a product model which might see the devices simply disposed of – but also enables it to reclaim the devices at end-of-life for responsible disassembly and, where possible, recycling. The technology has become refined as SafetyNet has delivered various projects to scientific and industrial partners, as part of schemes such as the EU Research and Innovation programme, Horizon 2020.
As Pisces has developed from idea to product, SafetyNet has turned to the public to help fund thousands more experiments, as this work doesn't fit with the key governmental and investor technology funding areas in the UK. "We've had some financial support through commercial work, European projects and philanthropic organisations, but with the current political state and science funding in general, we've become impatient and thought that the public could help us get there faster, while funding us to solve a problem that should concern all of us. We know we have the skills to build the devices, but hardware development is expensive," Watson says.
In a new step, SafetyNet is using crowdfunding to massively accelerate the science and understanding of light's use in making commercial fishing more selective, beyond the fisheries which it is already effecting. The money raised through crowdfunding will go towards developing Pisces to be as successful as possible, Watson says, "While we have a long list of people who would love to use Pisces once it's complete, the kind of technology development we're doing isn't that common. Understandably, people want the tech de-risked before they'll commit expensive vessel time to testing it." Ultimately, SafetyNet aims to responsibly supply Pisces to fishing crews globally in order to benefit fishermen by significantly reducing bycatch. More selective fishing will benefit the growing global population by providing more of the right fish available to buy, and also benefit regulators. A 'carrot and stick' legal approach to regulating the industry has seen it lose confidence in its green credentials – better selectivity will help it self regulate and become more sustainable.
SafetyNet's crowdfunder has now closed but they have raised a huge £29,761 to develop Pisces further. SafetyNet Technologies are now a step closer to a solution for sustainable fishing and reduced bycatch, keep up to date with their development by following them on Twitter.